Meister Skill is another system. To help develop the character to be stronger. Creed X can choose a type of Meister skill. The type of Meister skill will unlock 5 levels of max level basic skill and a new skill.
How to unlock Meister Skill
Detail
First step : Go to Mitera map, talk with NPC Meister Gniard and do the quest "Treasure of Meister".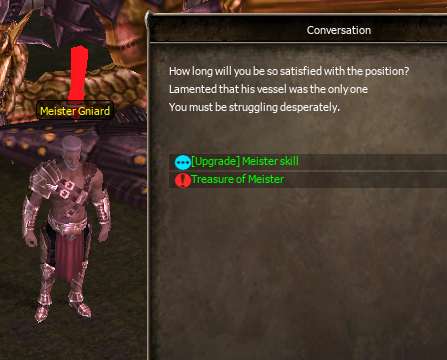 Second step : Kill monster in Mitera for quest item 100 ea and return to NPC Meister Gniard.
Third step : Do the quest "Meister test" at NPC Meister Gniard, a quest will send Creed X in to dungeon by talk with NPC Dozen Akato near NPC Meister Gniard.
Fourth step : In dungeon talk with NPC Regina to start a test, destroy all boss monster in the past inside dungeon, when finish dungeon Creed X can send the quest with NPC Meister Gniard.
Fifth step : Do the quest "Awakening Meister – …….", Creed X will choose type of Meister skill in this quest.
Example : Segnale has 2 types of group skill : Healing Hands and Crimson Empress.

Creed X can choose 1 type of group skill to kill monsters until expert.

Be careful when collecting point skill in quest until expert 1 type, the quest will finish and cannot choose another type. 

*Please read carefully in quest detail, before using skill to collect expert points.
Finale step : After sent quest, your character skill will be reset, unlock Meister skill, and can upgrade skill with unlocking by Mester skill more than before 5 levels. 
Example Meister Skill : Segnale – Healing Hands
Example skill table of Segnale : Healing Hands can upgrade skill more than before 5 levels.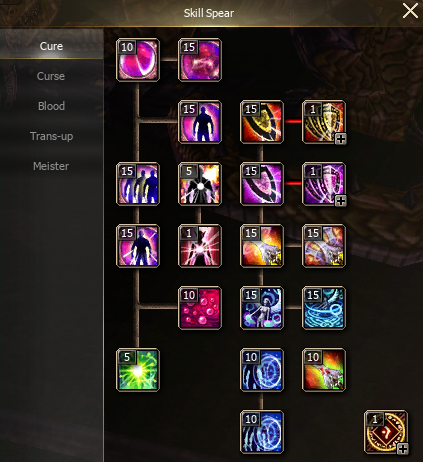 How to learn skill of Meister Skill
After unlocking Meister skill, Creed X will get new skill level 1 in Meister skill but some skill has a condition to get a skill, the skill will get when leveling of character higher than condition or needs a Meister Skill Book to learn.
How to upgrade skill of Meister Skill
Creed X can upgrade level skill of Meister skill at NPC Meister Gniard
Skill book of Meister skill need to use to upgrade skill
(Example of Skill book of Meister : Segnale – Healing Hands)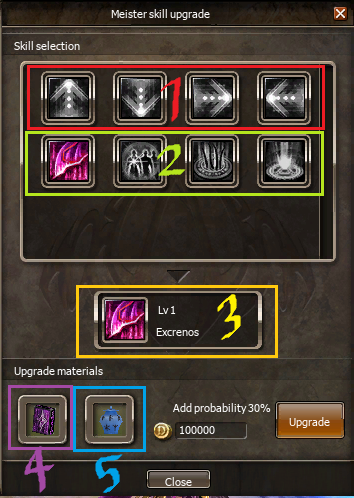 Meister Skill about movement

Meister skill no. 1, 2, 3

Chosen Meister skill for upgrade (need skill book)

A skill book

An Enhancement item
Table of success rate to upgrade Meister skill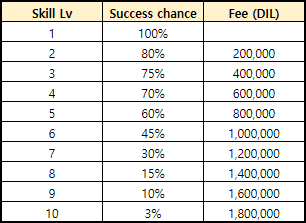 How to get Meister skill book
Boss in Dungeon  (Karon Brazier / Ruin of Baz / 

Rudny's Ruin

 / Elonohm)


Collect Gniar's Stolen Scrolls at NPC Dasakato(Dozen Akato)
        *Get by Gniar's Stolen Scrolls disassembling the skill book (NPC Carmen)
     3. Deca Shop
Table of type and number of Meister skill